Products and Pricing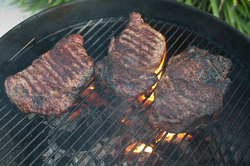 Our Angus crossed calves are fed to a finished weight of approximately 800lbs. They are then ready for processing but not taken until the day of your order, to ensure your beef will be as fresh as possible. At the time of your order, you may decide how the beef will be processed and packaged, (steak thickness, roast size etc.) at our expense (See a sample cut chart below). We use a quality federally inspected facility where the animal will be treated humanely. Your order will also be dry aged to perfection to lock in flavor and tenderness.

We price our beef by dressed weight, (hanging weight). Dressed weight will normally be 400lbs-500lbs for a whole, 200lbs to 250lbs for a half. At this time, being a small family farm, we are only set up to sell our beef by the half (side) or whole beef. Either option will include all cuts, which will consist of approximately:
35% steaks (t-bones, rib-eye, sirloin, and round)
15% roasts (pike peak, rump, arm, and chuck)
40% hamburger (90% lean)
10% misc. (short ribs, stew meat, soup bones, and brisket)

- Half beef price - $4.95lb dressed weight
- Whole beef price - $4.75lb dressed weight

We do require a $250 deposit (non-refundable) at time of order.
Allow 3 to 4 weeks before your order would be ready for pick-up.
Delivery is available free of charge within 30 mile radius of Alma, Ar.
Delivery is available within 150 mile radius of Alma, Ar for additional charge of $1.00 a mile.
Call for pricing on shipping outside 150 miles.
---
Sample cut chart.
Steak thickness -- 1/2" - 3/4" - 1" - 1 1/4" - 1 1/2"
Steaks per package -- 2 - 3 - 4 - 5 - 6 - 7 - 8
Round steaks -- Tenderized - Regular - Ground
Roast size -- 2lb up to 7lb
Hamburger Pkg. size -- 1lb - 1 1.5lb - 2lb

You may also choose to keep, or have these cuts ground:
Brisket Beef Ribs Stewmeat Soupbones