Fathead Farms
Natural Farm Raised Beef
We raise BEEF the NATURAL way!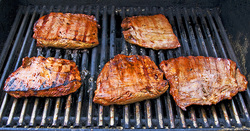 Here at Fatheads were just a small family farm in northwest Arkansas, with a passion for the country life-style and a desire to raise the best beef available, no big deal, right? Well, we do things a little different than most to acheive that goal.

First of all, we really enjoy what we do! Our calves are all born on the same farm and never bought from a sale barn. My brother-in-law, who is also my best friend, runs a fine looking herd of Angus/Charolais crossed cows on around 500 acreas of native grasses. These cows are given time to raise a quality calf, and at the time of weaning, I introduce the calves to small rations of natural grains and quality hay, and then, they are put back on open pastures to grow the natural way, all while being offered free choice grains, mineral, and water, until they reach that perfect weight. This is where we differ from most in the beef industry, we harvest our calves at a younger age and smaller weight (700lbs-850lbs) to maximize tenderness and flavor, and minimize excessive fat gain.

We also guarantee an ALL-NATURAL beef. This means our calves are never injected with steroids, hormones, antibiotics, or subjected to herbicides or fertilizers. They are on open pasture and natural grains from the day they are born. It is proven that naturally fed beef has MORE vitamin e, c, beta-carotene, and omega 3's, and has LESS cholesteral, fat, and calories. There are many reasons for buying directly from the farm, but the main one: It just simply tastes better!


---